WRITTEN BY – AJAY KAPOOR, 2ND YEAR BBA STUDENT AT AMITY UNIVERSITY, NOIDA, INDIA
As the need for re-skilling gains momentum across industries, domestic and foreign ed-tech platforms are vying to cash in on India's renewed fondness for learning.
It's the difference between a college and a university, describing what it means to opt for online courses from Indian and global education-technology platforms. Like hundreds of others, is cowering under the spectre of massive job cuts visiting India's tech industry.
Online education was a somewhat nondescript industry in India until a few months ago when a report by consulting firm McKinsey & Co created a furore. The report, tabled at the Nasscom India Leadership Forum in February 2017, warned that nearly half of the 3.9 million people employed in India's IT services sector would become irrelevant in three-four years, unable to keep pace with new technologies.
The need to upgrade and transition into more secure jobs in areas such as data analytics, machine learning and artificial intelligence is being felt across industries such as banking, manufacturing and ecommerce.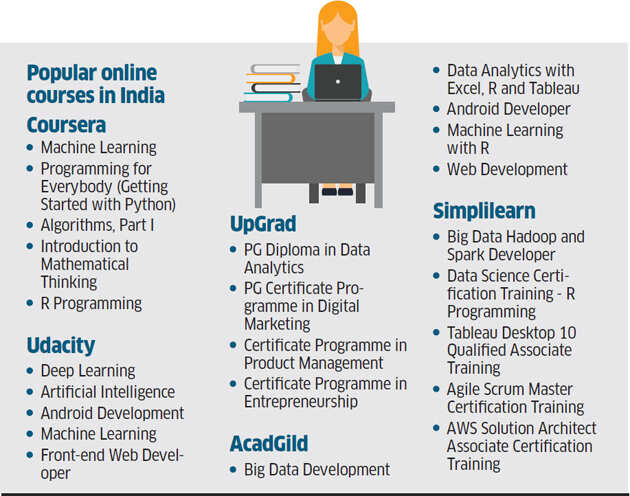 Cashing on this are two kinds of edtech companies with vastly different approaches: foreign biggies such as Udacity, Coursera and edX that view India as their largest market outside their home territories, and homegrown companies such as AcadGild, UpGrad and Simplilearn.
The ed-tech boom in India is evident in the numbers. US-based Coursera, which offers technology and business courses sourced from more than 150 global universities, has two million learners in India and is adding about 60,000 new learners every month—a pace faster than that of its global platform.
Bengaluru-based Simplilearn, which had to end its radio and television campaigns following a surge in enquiries, estimates growth in its business-to-consumer segment will double in fiscal 2017-18. It targets adding 150,000 learners this fiscal year, up from about 100,000 in 2016-17.
As competition heats up in India's online learning space, the moot point is whether it will be a winner-takes-all market. Several experts believe the narrative will not pan out that way since the foreign and local ed-tech companies solve different needs in different market segments.
The market will get further verticalized on the basis of the course itself—whether a learner wants to learn something as specialised as machine learning and artificial intelligence, which are high-interest courses, or basic technology courses.
These will depend on factors such as potential learning outcomes, career enhancement and salary increments for the students.
Many of the foreign online education providers follow the MOOCs, or Massive Online Open Courses, model. Learning is free but courses leading to certificates require a payment. The model has several strengths, the biggest being credibility since the courses are created by reputed global institutions such as Stanford, Yale and Wharton Business School.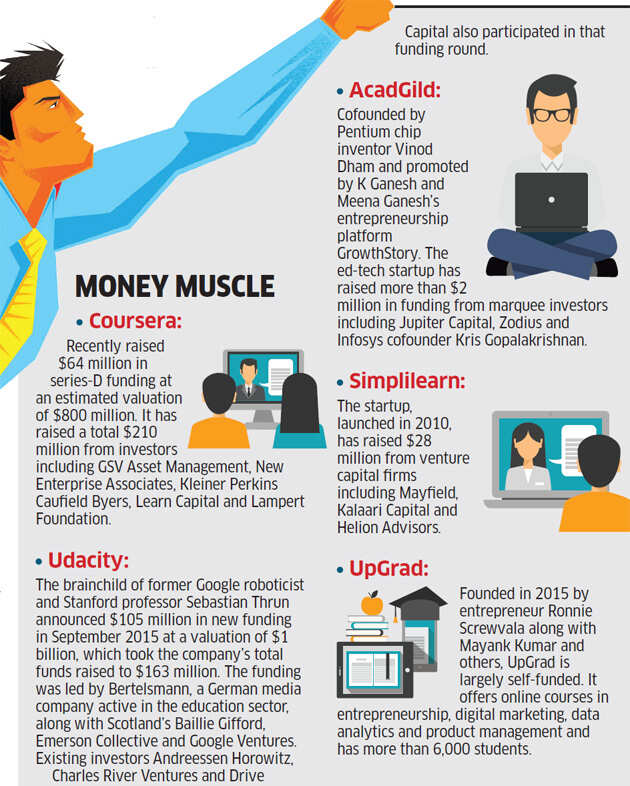 Typically, in this mass-market model, the courses are priced competitively. Homegrown companies, on the other hand, have an advantage in terms of being able to offer greater teacher-student interactivity. As opposed to the self learning approach of the MOOCs model, the driver for domestic companies is to make learning instructor-based and interactive with a lot of emphasis on supporting learners in multiple ways.
The free, mass-market MOOCs approach may promise higher scalability than the instructor-led models of Indian education providers, but the latter believe cost is not a factor for serious learners and, hence, they are not competing on price. Also, since skill-based learning is driven by outcomes, students being able to land jobs or right-track their careers after taking a course holds the key to scale, the Indian companies argue.
For its 11-month data analytics programme launched last year, the Ronnie Screwvala-founded UpGrad enrolled about 1,000 students, including several systems engineers and others professionals from the IT industry. The programme, priced at Rs 2 lakh, has been able to support a learner's transition into analytics roles within their companies or to analytics companies such as Opera and Fractal, according to UpGrad.
The company had to reject about 30% of the applications it received for the course, said CEO Mayank Kumar, adding that UpGrad plans to add batches for its data analytics course this year. It's important to identify the right gap and provide a great experience to the learner, it will merit scale.
The stress on learning outcomes such as role updation, expanding work roles and growth is growing within the MOOC community as well, which is increasingly moving from all-free courses to selective pricing and paid certifications. A recent learner outcome survey by Coursera found that 80% of Indian learners benefited in some way from taking online courses, and about one-third reported tangible benefits in terms of salary increases or from starting a new business.
California-headquartered Udacity counts its major differentiator to be its content that's created in consultation with technology companies including Google, Facebook and IBM.
Both domestic and foreign education companies are rushing to ramp up their business-to-business segments in a bid to strengthen their credibility, which is the biggest challenge for online education.
So it is for MOOCs providers, several of which have set up offices in India for scaling up their B2B segments. The focus of B2B here is to help build credibility and acceptance for these courses. Also, with the B2B approach, edX works as a connecting link between corporate requirements and university courses. edX has formed a corporate advisory board with 20 companies including TCS, HCL, Genpact and Samsung Research Institute. The company aims to enrol more than 100 business clients in a year.
Do Indian companies have an equal chance of success? If it is not for deeply specialised training, Indian players may win, but if it is for deeply specialised courses, I think foreign players will stay ahead. Domestic ed-tech companies need to scout globally for expert teachers from institutions and universities such as Stanford to be able to offer top-quality lectures on highly specialised subjects such as artificial intelligence and machine-learning.
Krishnan Ganesh, India's storied education entrepreneur who sold his venture TutorVista to British-owned education publishing firm Pearson in 2013, has a different viewpoint. "When it comes to skills, brands do not matter as much as employability," said Ganesh, now a director at AcadGild, an online platform for technical and business courses cofounded by Vinod Dham, known popularly as the Father of the Pentium chip. When one talk about skilling for a job, you need a hands-on, rigorous approach, interactivity, group projects, lab environment, and mentors to teach and guide you constantly. This is not (foreign online education providers') model.
SOURCE – MCKINSEY AND COMPANY INDIA REPORT, GADGET GURU TELEVISION SERIES ON NDTV (INDIAN NEWS CHANNEL), FINANCIAL TIMES, THE WASHINGTON POST